R33 Corporation are in the business in Importing 2nd Hand/Brand New luxury Cars in the Country. Our client are mostly high profile clients and we are proud of it.
Since 2003 catering High Luxury Cars Primary Porsche, Lamborghini, Ferrari, Bentley, Audi and many more. Since we saw the need and opportunity into trucks we are reluctantly open R33 trucks for those who are in need of the said vehicle.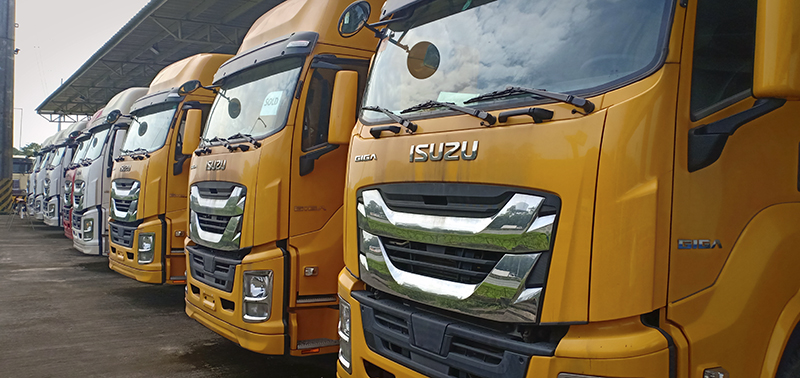 R33 Trucks was formed February 2016. R33 Trucks are dealer of Local and Imported Brand New, Used Trucks in the Philippines. We cater different kind and brand of trucks primary International and Freightliner Tractor Heads. Our Showroom is currently located at South Bound North Luzon Expressway, San Simon Exit Barangay Santa Monica San Simon, Pampanga.
R33 Trucks is a one stop Shop for trucks. Our trucks came mostly from Japan, Dubai, and United States. We have hundreds of Items/Machinery on our Inventory. We have Closed Vans, Drop side Trucks, 15 to 24 Ton Dump trucks, Mini Dump Truck, Bus, Coasters, Crawler Excavators, Flat Bed Truck, Trekker Pick-up, Boom truck, Military Jeep, Military Trucks, Wing Van, Drum Road Roller, Telescopic Man lift, Aluminium Tank, Elevated Crawler Dozer, Man lift Truck, Power Washer Trucks, Crane Truck Refrigerated Van Trucks, 4 Wheel Drive Rescue Trucks, Boiler Truck, Bulk Carrier, Utility Truck, Pump Truck, Ambulance, Forklift. We also have Agricultural Track, Welder/Generator, Portable Light Tower, Mobile Water Pump, Mobile Power Washer, Mobile Air Compressor.
Truck Brand Available
Caterpillar, Daewoo, Ford, Freightliner, Hino, Hyundai, International, Isuzu, Kawasaki, Kia, Komatsu, MACK, Mercedes Benz, Military Trucks, Mitsubishi, Nissan, Sterling, TADANO, TCM, Toyota.
Kinds of Items we cater
Trailer, Tractor Heads, Ambulance, Elevated Craw, Bus, Drum Road Roller, Dump Trucks, Crawler Excavator, Fork Lift, Elevated Craw Dozer, Water Tanker, Shuttle Bus, Boom Truck, Military Truck, Military Jeep, Telescopic Man Lift, Power Washer Truck, Man Lift Truck, Crane Truck, Drop side Truck, Rescue Truck, Utility Truck, Close Van, Mobile Electric Generator, Mobile Water Pump, Motor Grader, Mobile Tower Light, Wheel Loader, Steel Tank Trailer, Pressure Washer, Mobile Air Compressor, Folding Cots etc…